What a Difference a (Mamba) Week Makes
Kobe Bryant is the first in the era of major sneaker endorsements to die. His shoes sold well because of what he did while alive. How should we interpret the market for his stuff now that he's dead?
A Sad First
Anyone who has spent time awake over the last twenty years has at least known of Kobe Bryant's celebrity. As a high-school phenom and an NBA All-Star, he made the wise, albeit obvious, decision to sign an endorsement deal with a shoe company. First Adidas, then Nike. From the time he signed a $48 million dollar contract with Adidas out of high school until the day he passed away, Kobe's celebrity was in part leveraged to sell shoes.
👟 Lace up and subscribe:
After Michael Jordan's 1984 Nike deal, shoe endorsements took on a global scope with the fetishization - and therefore demand - of sneakers increasing dramatically. Bryant is the first major shoe-endorser to pass away in the Jordan shoe era. What's happened to Bryant's merchandise in the aftermarket is unprecedented, yet wholly unexpected.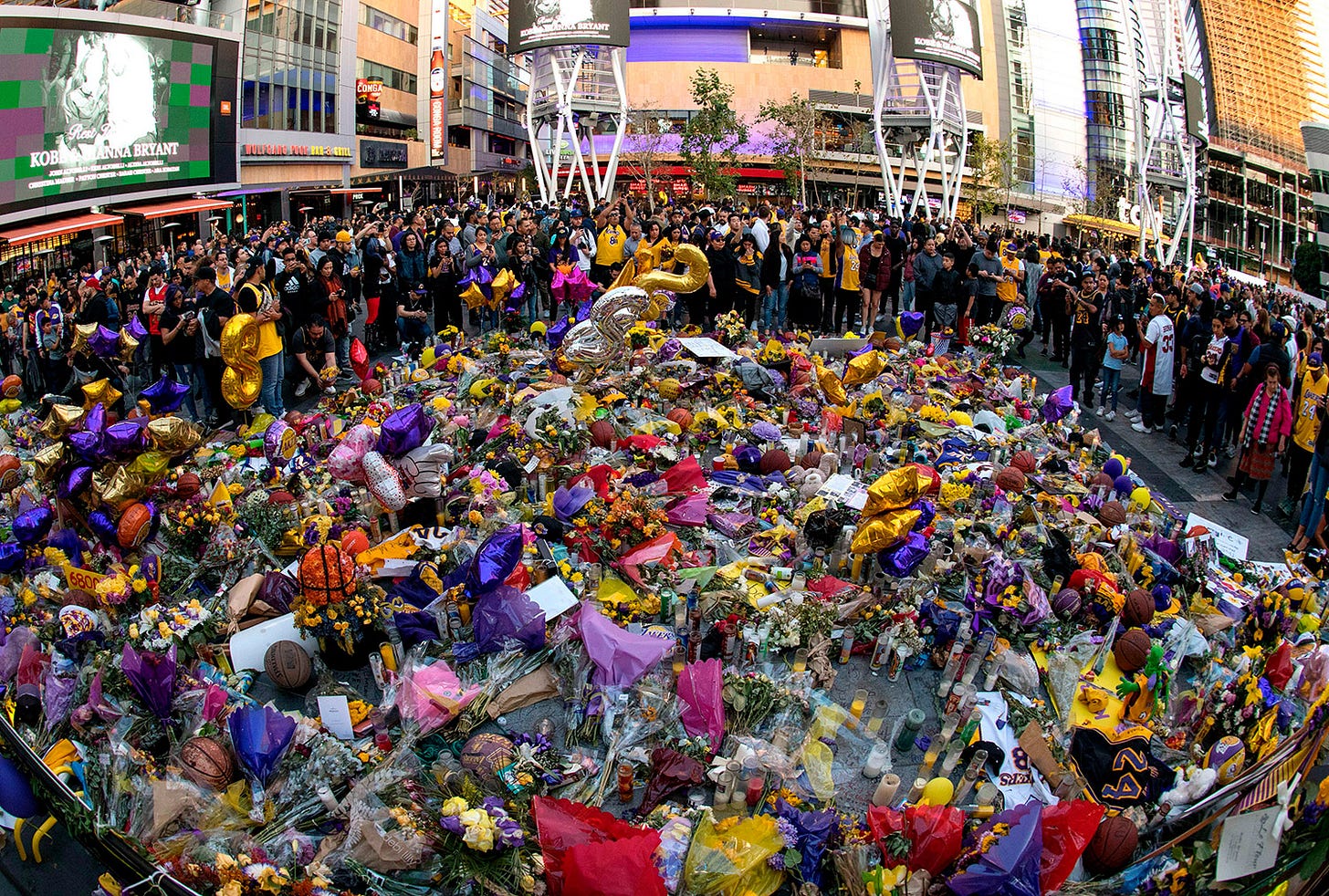 The Bryant memorial outside of Staples Center in Los Angeles, CA.
Mamba Market Moves
Following his death, Nike's Kobe Bryant collection sold out almost immediately. After selling out, the Kobe collection page on Nike's site was turned into a memorial, with only purple and gold (Lakers colors) gift certificates available for sale. Nike didn't re-stock the merchandise out of respect to Bryant and his family and didn't want to be perceived as profiting off of his demise.
Many resale markets carrying Bryant-branded goods reacted to his death jubilantly. For instance, shortly after news broke, prices for Bryant Nikes with a retail value of $170 surpassed $1,000 on StockX, a sneaker re-sale site. Some other sites wouldn't allow re-sellers to increase their prices in the wake of Bryant's passing, but it's uncertain how long this restriction lasted or if those sellers couldn't simply list their wares elsewhere.
Pictured above: Adidas Kobe 2, which debuted in 2001.
During the course of his time as a Nike spokesperson, Bryant helped launch a multitude of shoe products. To honor his input and hands-on approach to his gear, Nike is releasing an array of Kobe-branded sneakers and Bryant Lakers jerseys. Kicking off on August 23rd, 'Mamba Week' began on what would have been Kobe's 42nd birthday. Although Nike is donating $1 million to the Mamba and Mambacita Sports Foundation, the items will be sold for a profit.
As expected, there was also an aftermarket for the Mamba Week merchandise. Nike released a limited amount of the shoes and jerseys each day, selling out of each almost instantaneously. The shoes and jerseys which originally sold in the $100-$200 range ended up going for multiples more in resale.
Above: Undefeated x Nike Kobe 5 Protro 'What If?' sneakers on the resale market. What is 'Protro'!?
The Market's Mortal Agnosticism
As demonstrated in the image above, and by Nike's decision not to re-stock Bryant goods on their webpage in the immediate aftermath of his death, there's been a fair amount of confusion and consternation around how to behave if you're in possession of Kobe gear. Whether or not it's kosher to sell the goods at all, or at a much larger profit, raised questions around whether people were profiteering off of death.
As of this writing, there have been 181,000 Covid-19 related deaths in the United States. The market - not the economy - has similarly paid death no mind. After a dip in mid-March, mostly from the pandemic, both the Dow Jones and S&P 500 indices have climbed to highs above where they were before they fell. Although the coronavirus curve in the US has begun to go down, the worst of the pandemic - cases, hospitalizations, deaths - took place in the midst of the market's comeback. People continue to get sick, lose their livelihoods, and face new forms of precarity - yet the market rises.
Pictured above: The Dow Jones Industrial Average 2/27/20 - 8/27/20
Neither Bryant's merchandise aftermarket nor the stock market sunk in the face of death. This is because neither hews to reality.
For one, in both markets, the majority of participants are the ones with the means to participate. With stocks, the bottom 90% of households in the US own just 12% of all the equities. Spending $600 on sneakers requires significant disposable income with volatile potential for returns. When the average American family has $40,000 in liquid savings, $600 shoes represents 1.5% of a family's - not a single person's - net worth. That's a lot for a pair of shoes that don't make you skinnier, jump higher, or smell any better.
Secondarily, the forces governing both markets are too opaque to understand. Few people can succinctly explain why a stock goes up or down. It's intuitive to think the market and economy would move in the same direction. When, such as now, they go in opposing directions, there's no longer a simple proxy to explain how the market behaves.
Sneaker markets are equally cloudy. Nikes, just like Beanie Babies, have a single producer and the scarcity of each is carefully crafted. Nike will never reveal its calculations for production levels or the rationale behind its release schedules to the outside world. Therefore, purchasing a pair requires due diligence around scarcity, timing, and authenticity that is beyond most normal people.
Pictured above: A beanie baby.
Accordingly, we're all better off divorcing ourselves from the idea that we can pay our respects via the cessation of buying. High resale prices don't impact the Bryant family in the exact same way that market gains don't do most people much good.
This isn't to say we shouldn't buy shoes or stocks, just that some things aren't worth paying attention to.
🍆💦 If you like this content, please share🍆💦
👽❓Click the button below to get more writing like this.❓👽
Song of the week: A song about the titular sneakerhead as he goes through his compulsions to get the latest and greatest sneakers. From one of the most fascinating role-playing rappers out there, Serengeti. 'Ajai' by Serengeti: